|

September 25, 2017 10:33 am




Nigeria has a new 2017 budget….
Before we look at the assumptions and broad goals of the 2017 budget, its important to look at the 2016 "budget of Change", this will allow us score the Federal Government of Nigeria (FGN) and see what are their areas of core focus are. (My figure are from the FGN own Budget Office)
The info-graphic attached compares the 2016 budget proposal with the actual…the results are well amazing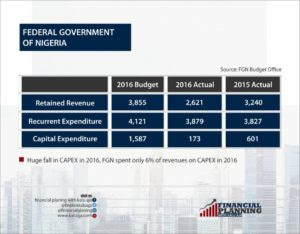 The FGN spent only N173b on Capital projects for the entire 2016, this figure is less than what Akwa Ibom State Government budgeted for Capital Expenditure in 2016….(like i said amazing). Kemi Adeosun Nigeria"s Minister of Finance said in March 2017 that "So far, N1 trillion has been released on Capital and this is the highest so far in the history of this country. " ….what was she talking about? Minister of Finance says N1t released, FGN Budget Office says only N172b spent for the entire 2016…same government.
Hang on Kalu, for 2016, 2016 oil prices were low so the FGN did not have sufficient fiscal inflows, that is untrue, the FGN spent N3.8t Trillion, (note Trillion) on Salaries, Pensions, Overheads Allowances etc (non CAPEX) in the same period. N3.8t on salaries to less than 300,000 Nigerians employed by the FGN but only N172b to projects like roads and hospitals for the whole of Nigeria. in all of this, the FGN borrowed N300b via Bonds, so half of the FGN Bonds went to cover a budget deficit fueled by salaries
This is why the 2016 recession was so deep and so long, the FGN practically did nothing, no actual stimulus was injected into the economy, it was all talk. Nigeria lost 2016 to talk and phantom injections of "stimulus dollars".
The recession was caused by a failure of the Forex policy, but it was extended and deepened by the tepid FGN budget expansion that was targeted at salaries not railways
So what can we conclude today
The FGN earned N2.6t
The FGN spent N3.8t
The FGN spent only N172b on Capital Projects in the budget of Change
The FGN borrowed N300b, spent mainly on Recurrent Costs
Not Good.

Tomorrow we continue. we look at where the spending actually went to…

Tags: budget, CAPEX, FGN